iPad Planning for Success 2014-15
SUHSD's Commitment to Planning for Success in 2014-15
iPad Deployment to students
This year iPads will move to high schools with the incoming 9th grade class. iPads will be issued to 7-9th graders between July 16th and July 28th.
Bring Your Own Device (BYOD)
We do not currently have a BYOD policy in place. One of our goals for 2014-15 is to formulate an equitable BYOD policy for students wishing to bring personal devices from home.
Internet Bandwidth
Bandwidth is increasingly important to consider as the number of wireless devices being used at schools increases. In July, the installation of wireless technology at all high schools will begin in order to ensure adequate wireless coverage and capacity at every school. All wireless upgrades are expected to be completed by December of 2014.
Device Enrollment Program
iPads provide users (students and teachers) with powerful computing technology anytime, anywhere. Because iPads are mobile like cell phones, they have to be managed. For a big District where iPads travel home with students, this means keeping track of iPads with a good asset management system, the help of theft protection tools and personnel, and teamwork at schools. Apple (the maker of iPads) has given us one more tool to help discourage would-be thieves from taking iPads. With Apple's new device enrollment program, SUHSD can enroll iPads with Apple by serial number and individual student Apple ID. This means if someone takes an iPad from a student and tries to use it, it will not work for them. When someone who is not the owner of the iPad tries to connect it to a wireless network, Apple will send a message to the iPad saying it belongs to SUHSD. We believe the Device Enrollment Program Apple has created will help deter theft and protect students from being targets of theft.
The Device Enrollment Program also adds a parent oversight component. Every student will need an Apple ID to enroll. The Apple ID does NOT collect financial information from parents or students. Students under 13 cannot create an Apple ID on their own. Parents must assist them as well as authenticate the ID through their e-mail address. This is required by law as part of the Children's Online Privacy Protection Act.
Students 13 or older can create an Apple ID without parent consent.
SUHSD will only allow students to create an Apple ID on SUHSD iPads with their SUHSD provided g-mail account. Students 13 or older will automatically be enrolled with Apple prior to the day they pick up their iPad for the 2014-15 school year. When they get their iPad at school, they will be asked to confirm the ID with Apple.
Students under 13 years of age will need to have completed this process with a parent PRIOR to the day they pick up their iPad from school. We cannot deliver apps to the iPads until this is done. Parents will receive instructions for this process on July 3, 2014 via School Messenger calls and e-mail.
PARENTS: Use this link to create a free g-mail account for yourself. You only need to use this if you don't already have an e-mail address.
Parent Liability for Loss/Theft/Damage
Parents and students are responsible for school textbooks and equipment checked out to them per Board Policy 6161.2. 
The list of charges for iPads and accessories are as follows:
iPad Replacement fee – $484.00
iPad Case fee – $18.00
30 pin cable – $11.00
Lightning cable – $14.00
Power brick – $22.00
Damaged iPads are covered by Apple Care for the first two incidents under a single user. The cost to replace a cracked screen (the most frequent form of damage to an iPad) is $49. On the third incident under any one user, parents are liable for the full cost of repair. The District provides heavy duty iPad cases meant to reduce the risk of damage to iPads. You can help prevent damage to your child's iPad by making sure your child keeps the District provided case on his/her iPad at ALL times.
In the event of theft or loss, report the incident to your child's school immediately. SUHSD owns the iPads so police reports must be generated by SUHSD personnel. The sooner you report a lost or stolen iPad, the better the chances are that we will recover it which will save you money and headache. You should regularly ask your child to see his/her iPad. Students sometimes lose iPads and don't report it to anyone for fear of getting in trouble at home and at school. In a recent student survey, we asked students how often their parents asked to see their iPads. A large percentage of students said rarely or never. We want to have students report somewhere between daily and weekly.
Internet Content Filtering and iPads
When students are at school, they must access the Internet via a school wireless access point. Those access points are programmed to apply policies that filter inappropriate content so students can use the Internet at school with the reasonable assurance of not being able to access content that is not appropriate for school age children. We have created an iPad profile that applies the same policies to student iPads when they are using wireless access points at home. If you are concerned that your child has access to inappropriate content during or after school, please contact your child's school immediately and we will take measures to review and (if necessary) restrict access to those sites.
SUHSD specifically blocks student access to YouTube and Facebook.
Digital Citizenship
SUHSD has created a comprehensive digital citizenship course for students. The course is appropriate for middle school age students. We have made the course publicly available through our learning management system – Canvas LMS. The link to that course is: https://sweetwaterschools.instructure.com/courses/863571
Parents are encouraged to review the course, discuss the topics with their children, and educate themselves about what students need to know in order to be digitally literate and safe.
Applications and Services provided to all students
Students receive the following paid iPad applications (these are not free to schools or to consumers)
Notability – used for annotating on pdf and image files. It can also be used to create subject based folders and for note taking
Explain Everything – used for screencasting on iPads
In addition to iPad applications, students in SUHSD have access to the following as noted:
Canvas LMS – used for end of course exams, accessing course content or supplemental materials, district wide training i.e. digital citizenship or TUPE (alcohol/tobacco prevention)
Jupiter Grades – used for school/home communications about grades and schoolwork
Google Drive – used for cloud storage (each student gets 30GB of space – the equivalent of 2 iPads), productivity (Google docs, forms, draw, presentation, and forms).
Achieve 3000 – for all middle school students to improve their critical thinking and writing skills when reading expository text such as newspaper articles, academic literature, or subject specific information.
Learning Upgrade – for middle schoolers (at most middle schools) needing assistance with foundational math and English skills.
Shmoop – for all high school students to assist with nearly every kind of test prep from CAHSEE to AP Exams.
Safari Montage – for all students to provide access to high quality, curated educational videos and resources aimed at assisting students who want to explore topics more deeply or use quality video for presentations. Safari Montage is a complete, information age digital library.
Apex – for high school students in need of credit recovery, Apex offers several online courses that are facilitated by SUHSD teachers.
More about COPPA and protecting student information
Google provides schools/districts with free Google Drive accounts that are registered under the District's domain i.e. Sweetwaterschools.org
Apple also provides students with the ability to use iPads and access the App Store via the use of an Apple ID
For students under the age of 13, COPPA rules apply. This means parents have to consent to students having these accounts. Parents sign a document regarding Internet use upon registration but organizations like Apple require parents to consent via their own e-mail accounts. Google does not require this. See below for information about Google and Apple under 13 policies.
Google:
Schools assumes the responsibility for complying with COPPA and the information that students submit. When offering online services to children under 13, schools must be cognizant of Child Online Privacy Protection Act (COPPA).  Per the Google Apps Education Edition Agreement, any school administering Google Apps Education Edition acknowledges and agrees that it is solely responsible for compliance with COPPA, including, but not limited to, obtaining parental consent concerning collection of students' personal information used in connection with the provisioning and use of the Services by the Customer and End Users. (click on images below to see larger views)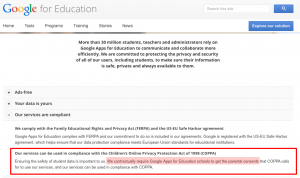 Apple: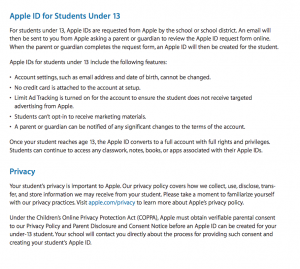 SUHSD's 1-1 initiative will align to Project Red's 11 educational success measures (ESMs).
Summary of Current Research[1]
The Project RED team analyzed over 4,000 pages of reports and evaluations from technology-rich implementations, primarily from 1:1 programs, and found little commonality in the success factors measured by schools.
Lacking a national consensus, (Project Red) chose 11 education success measures that provide a balanced view. Many appear frequently in the research literature, and a few are new to this study (primarily those related to financial impact, which is rare in the literature).
These 11 ESMs were selected in order to elicit the most valuable information for our hypotheses with the fewest number of variables. The measures were divided into two groups, those that affect students in all grades and those that affect students in high schools.
All Schools
Disciplinary action rate. The frequency of disciplinary actions is a strong, leading indicator of academic success or failure. Fewer disciplinary actions mean that students are more likely to be engaged in learning. Also, every disciplinary action costs time and money.
Dropout rate. Dropouts are an extreme indicator of the lack of academic success and lead to high personal and societal costs.
High-stakes test scores. Any school improvement program needs to have a focus in this area.
Paper and copying expenses. This factor is a proxy for other similar school expense centers. Paper and copying machine expenses are more significant than often realized, particularly when labor is included.
Paperwork reduction. This factor is a proxy for efficiency savings attributable to technology. When paperwork is reduced, teachers have more time to spend on educationally productive tasks, and schools save other costs (such as storage and records retention).
Teacher attendance. Substitute teachers cost the district money and may impact student performance.
AP course enrollment. This factor indicates the quality of curriculum and instruction and reduces the time required to graduate from college, saving money for the state and for families.
College attendance plans. This factor indicates the quality of curriculum and instruction and facilitates students' educational planning.
Course completion rates. This factor indicates student engagement, achievement, and school quality. Conversely, course failure has severe negative academic and financial implications.
Dual/joint enrollment in college. This factor indicates a high level of student achievement and savings in future college expenses. The state saves money in subsidies for higher education and starts receiving tax revenues earlier.
Graduation rates. This factor indicates school quality and effective curriculum, instruction, and student planning. Multiple indicators, such as graduation and course completion rates, allow for better triangulation on a self-reported survey.
Independent Variables of Survey
The Project RED Survey consisted of questions regarding 22 independent variables, some with subcategories, chosen for their potential to provide insight into the education success measures (ESMs). As with the education success measures, many variables could not be included due to the limitations of survey size and the effects of survey fatigue.
The number of subcategories in each variable is noted in parentheses. Project RED was designed to provide data for later analysis of the relationships between the 22 independent variables and the 11 education success measures.
1         Types of devices (6)
2         School usage patterns (7)
3         Levels of use by subject (14 subjects, 6 levels of use)
4         Primary impetus of the program (11)
5         Sources of funding (9)
6         Parental involvement—measured by face-to-face meetings or trainings (1)
7         Teachers—when issued devices, relative to students (1)
8         Technology plan quality (6)
9         Program sustainability (1)
10     Pedagogical models (4) and usage patterns (6)
11     Classification of types of classroom use (12) and frequency (7)
12     Principal training—types (6) and frequency (5)
13     Principal's leadership role (5) and frequency (5)
14     Teacher professional learning—categories (8) and frequency (5)
15     Professional learning budget (3)
16     Technology systems reliability (5)
17     Network accessibility (3)
18     Internet connection speed (5)
19     Student-computer ratio (5)
20     Grades covered (1)
21     Year of implementation and length of implementation (1)
22     Type of institution (1)
Key Implementation Factors for 1-1 initiatives that lead to improved student outcomes are:
Finding 1: Nine key implementation factors are linked most strongly to education success.
Although educational technology best practices have a significant positive impact, they are not widely and consistently practiced. Effective technology implementation in schools is complex, with hundreds of interrelated factors playing a part. A failure of just one factor can seriously impact the success of the project. For example, one commonly reported problem is insufficient Internet bandwidth to support the substantial increase in devices in a 1:1 implementation. This leads to student and teacher frustration and reduced usage levels.
Project RED has identified the nine key implementation factors (KIFs) that are linked most strongly to the education success measures.
Key Implementation Factors
(Rank Order of Predictive Strength)
1         Intervention classes: Technology is integrated into every intervention class period.
2         Change management leadership by principal: Leaders provide time for teacher professional learning and collaboration at least monthly.
3         Online collaboration: Students use technology daily for online collaboration (games/simulations and social media).
4         Core subjects: Technology is integrated into core curriculum weekly or more frequently.
5         Online formative assessments: Assessments are done at least weekly.
6         Student-computer ratio: Lower ratios improve outcomes.
7         Virtual field trips: With more frequent use, virtual trips are more powerful. The best schools do these at least monthly.
8         Search engines: Students use daily.
9         Principal training: Principals are trained in teacher buy-in, best practices, and technology-transformed learning.
Finding 2: Properly implemented technology saves money.
Substantial evidence shows that technology has a positive financial impact, but for best results, schools need to invest in the re- engineering of schools, not just technology itself. Properly implemented educational technology can be revenue-positive at all levels—federal, state, and local. Project RED respondents report that technology contributes to cost reductions and productivity improvements—the richer the technology implementation, the more positive the impact.
 Finding 3: 1:1 schools employing key implementation factors outperform all schools and all other 1:1 schools.
A 1:1 student-computer ratio has a higher impact on student outcomes and financial benefits than other ratios, and the key implementation factors (KIFs) increase both benefits.
Evidence supporting the third Project RED hypothesis: Continuous access to a computing device for every student leads to increased academic achievement and financial benefits, especially when technology is properly implemented.
In general, respondents say that schools with a 1:1 student-computer ratio outperform non-1:1 schools on both academic and financial benefits.
 Finding 4: The principal's ability to lead change is critical. Change must be modeled and championed at the principal level.
The impact of a good principal has been widely documented. Good principals also contribute to distributive leadership, in which team members surrounding the principal play an important role. As shown in earlier studies, strong district leadership is also essential for successful schools. All levels of leadership are important, individually and collectively, including school boards, superintendents, and assistant superintendents for curriculum, instruction, technology, finance, and operations. Project RED analysis shows that within the school the principal is one of the most important variables across the 11 education success measures, suggesting that change leadership training for principals involved in large-scale technology implementations is of paramount importance.
Finding 5: Technology-transformed intervention improves learning.
Technology-transformed intervention classes are an important component in improving student outcomes. Project RED defines technology-transformed intervention classes as those where technology plays an integral role in the class. Generally every student has a computer, and the curriculum is delivered electronically. Students move at their own pace. The teacher is heavily involved but spends most of his or her time in one-on-one or small- group mode rather than lecture mode.
Project RED found that technology-transformed interventions in ELL, Title I, special education, and reading intervention are the top-model predictor of improved high-stakes test scores, dropout rate reduction, course completion, and improved discipline. No other independent variable is the top-model predictor for more than one education success measure.
This finding also illustrates the power of the student-centric approach enabled by technology, where students typically work at their own pace. Each student can take the time required to complete the course with demonstrated achievement. A few students will take longer than the traditional semester length, but not many.
Finding 6: Online collaboration increases learning productivity and student engagement.
Online collaboration contributes to improved graduation rates and other academic improvements. Collaboration and interaction among students have long been viewed as important factors in improving student achievement, and participation in study groups is a good predictor of success in college.
Finding 7: Daily use of technology delivers the best return on investment (ROI).
Schools must incorporate technology into daily teaching to realize the benefits. The daily use of technology in core classes correlates highly to the desirable education success measures (ESMs). Daily technology use is a top-five indicator of better discipline, better attendance, and increased college attendance.
[1] Information from Project Red 2010 Research Report: http://projectred.org/about/research-overview.html